Winter Heating Tips – February 2019
Winter tips from Sanders & Johnson.  This winter has been especially crazy with storms, blizzard conditions and plain crazy weather patterns.  Here are a few more survival tips to keep warm this long season.
We covered this last month but a reminder and a few other tips on those drafty windows.
Windows are an investment and while not always in the budget, it might be a good time to look at the efficacy issue.  Good windows make a different in both summer and winter. 

For winter try using a clear plastic sheet, you can purchase the heavy-duty, plastic film at your hardware store or any Lowes and Home Depot.  Attach this to the INSIDE of your window frames during the cold winter months. Seal it with the tape if needed.

Dear decorators those drapes are amazing, but they hare paper thin and silky and they bellow in the draft.  People are surprised at what having drapes with thermal backing do to help with heating and cooling cost.
Let the Sunshine in when you can – it's your natural heater!
Do you have south facing windows? Use the sun to naturally heat your home.  

The popular growing reflector and the solar panel option may be a consideration.
Is it time for an adjustable and programmable thermostat???  Sanders & Johnson can help you with this incredible way to maintain great temperatures all year long and save money!
For your basic thermostat:
Remember to set your thermostat as low as is comfortable when away.

Turn down your thermostat 10 degrees while you are sleeping.  Turn it down lower if you are going to be out of the house for a period of time.  Did you know that setting your thermostat back 10° to 15° for eight hours could save you around 10% a year on your bills?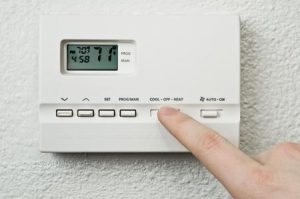 Programmable thermostats:
Call Sanders & Johnson to set up an appointment for a walk through on what a smart or programmable thermostat can do for your home heating and cooling efficacy.  
The best way to be energy efficient is to maintain your own home's heating and cooling system with a maintenance call to Sanders & Johnson.
Remember to always look for the ENERGY STAR® certified logo on appliances and heating and cooling units.
Call us about our High Efficiency Heating and Cooling Systems and Solutions offered by Bryant Heating and Cooling!