About us
Denver is an extraordinary city, with our incredible winters and even more spectacular summers it's the type of place you move to and put down some roots. Well that's exactly what Jim Sanders and Dan Johnson did when they started Sanders & Johnson back in 1977. We are one of the few Denver companies still owned and operated by the original founders. Because we rely on our customers to such a great extent we know how important it is to provide total satisfaction, and personalized customer service. Give us a call today at 303-422-6606 and Dan or Jim will come out to your home and give you a totally free estimate on any installations you might need.
Why choose Sanders & Johnson?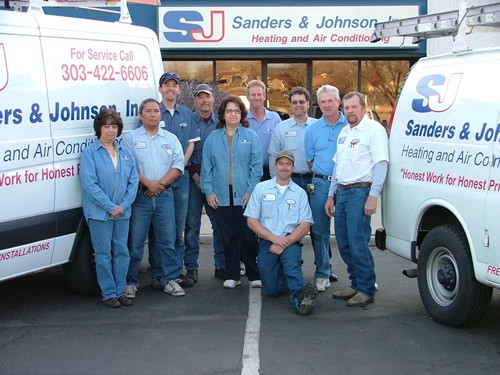 Here at Sanders & Johnson, Inc. Heating and Air Conditioning we always provide the highest quality of service. We know that our customers are the life blood of our company and treat them accordingly, valuing your time. We do what we say we're going to do, when we say we're going to do it.
Our Mission
To provide all our customers with honest work for honest prices. Let Jim or Dan assess your heating and cooling needs and give you a free low pressure estimate on equipment installation. Our number one goal is always customer satisfaction. As your hometown heating and air conditioning experts we always want to provide quality installation in the Denver area. Call us today at 303-422-6606.
Testimonials
"Just wanted to thank you for great service and a really clean job. I have heat in the upstairs for the first time in years. I really appreciate all you guys did!"
Mark with KOA radio
"I would like to thank you and your guys, John, Gary, Tim and Eric for the great job they did in replacing my boiler. From the moment of your prompt estimate and all the way to final cleanup, I felt like the most important customer in town."
Jack K.
"Thank you for quickly fixing our furnace. Since we are both in our 70's and 80's we can't sit too long in a cold house.
Nella J.