Need a High Efficiency Gas Furnace?
Look to Bryant for your High Efficiency Gas Furnace and Enjoy Whole-Home Warmth
To get the perfect combination of comfort features and energy efficiency for your home, take a look at these all-star gas furnaces. From the top-of-the-line Evolution® 987M through the solidly build Legacy™ line furnaces, Bryant® furnaces perform.
Evolution® Variable-Speed High Efficiency Gas Furnaces
Evolution® Series Gas Furnaces provide quiet, smooth, comfort with up to 98.3% AFUE savings. Variable speed airflow or Perfect Heat® technology can keep you comfortable all year round.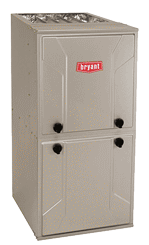 Preferred™ Series Variable & Multi-Speed Gas Furnaces
Outstanding wintertime comfort and savings! The ultra-quiet performance from these units can reduce hot and cold spots throughout your home. Summer humidity control.
Legacy™ Line Fixed-Speed Gas Furnaces
This gas furnace, you can rely on dependable comfort for your home. This furnace has an insulated cabinet for quieter operation.
Call Sanders & Johnson today for your winter furnace installation and stay warm all year!!